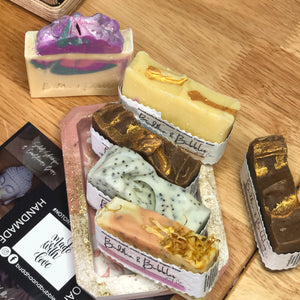 Buddha & Bubbles
Handmade Soap - Activated Charcoal with Oud Wood and Bergamot
Sale price Price $5.12 Regular price Unit price / per
***FOR INTERNATIONAL ORDERS PLEASE GO THROUGH CHECKOUT AND SELECT "LOCAL PICK UP".  I WILL THEN RESEARCH THE BEST RATE DEPENDING ON THE WEIGHT OF YOUR ORDER AND WILL EMAIL YOU WITH THE DETAILS.  INTERNATIONAL ORDERS MAY INCUR ADDITIONAL CHARGES SUCH AS CUSTOMS DUTY OR VAT***
Bars weigh approx 90-100g
This is a handmade soap fragranced with Oud Wood and Bergamot fragrance oil. It's a beautiful musky fragrance not too overpowering and is gender neutral.  It's decorated with himalayan sea salt and contains activated charcoal which is derived from coconut husks and helps to remove impurities from the skin with a light exfoliation  
My soaps are all packaged in plastic free packaging with a pretty cigar band with details of ingredients and legal information required.

They are beautifully decadent soaps that do not contain any preservatives or artificial foamers.  They are 100% natural ingredients.  I have perfected my formula to ensure beautiful bubbles and they all have good fragrance retention.
For best results do not leave your soap standing in water, it needs to stand up and be left to dry between uses.  Because soaps are all handmade designs and size might vary slightly.
All my soaps are cured before sending out which means the water evaporates after saponification resulting in a hard and creamy bar.
They all contain:-
Extra Virgin Olive Oil
Canola Oil
Unrefined virgin cold pressed Coconut Oil
Castor Oil
Unrefined Shea Butter
Sodium Hydroxide
Distilled Water
Botanicals
Feel free to message me with any questions.
I am happy to provide a gift box and a handwritten message with your soaps  please also select Gift Box at checkout  and include the name, address and message to recipient in the box.