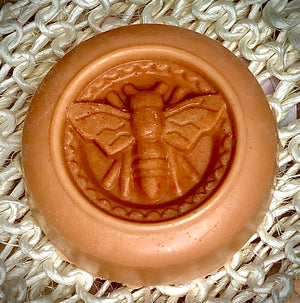 Buddha & Bubbles Soap Co
Solid Conditioner Bar BALANCE for Greasy Roots and Fine Hair
Sale price Price £10.50 Regular price Unit price / per
These are beautiful handmade Solid Conditioner Bars containing no SLSA which can be a bit drying to hair or silicons which can leave a coating on the hair. 
These are super concentrated bars and contain no water.
The BALANCE Solid Conditioner Bar is formulated for greasy roots and fine hair fragranced with a beautiful Bergamot Essential Oil which is a light citrusy fragrance.  Contains Vitamin C powder and French Rose Clay for it's natural colour and which is nourishing for your hair.  Using light oils, nothing too heavy for fine or greasy hair, we use an Apricot Kernel oil blend to ensure nothing too heavy.
It includes but is not limited to:-
Argan Oil which is such a beautiful oil for the hair.
Cold Pressed Apricot Kernel Oil which is super hydrating for dry hair
Unrefined, Raw Coconut Oil which is a great oil for hair as it's able to penetrate the hair shaft 
Conditioning Agents
French Pink Clay adds which beautifully colours the bar and adds hardness and is also hydrating to the hair
Pro Vitamin B a great humectant which ensures your hair stays beautifully moisturised
Bars Weigh minimum of 30g
Because this is a concentrated bar a little goes a long way so less is more  
DIRECTIONS FOR USE 
Wet hair and bar 
Slide bar down hair shaft avoiding roots 4-5 times depending on length of hair.  Massage conditioner into hair.  Rinse well until squeaky clean.
Leave to dry out thoroughly between uses 
Avoid mucous membranes and direct contact with eyes.  For external use only.  

Do not leave bar sitting in the sun because of the high oil content it will melt.
Do not leave bars sitting in water